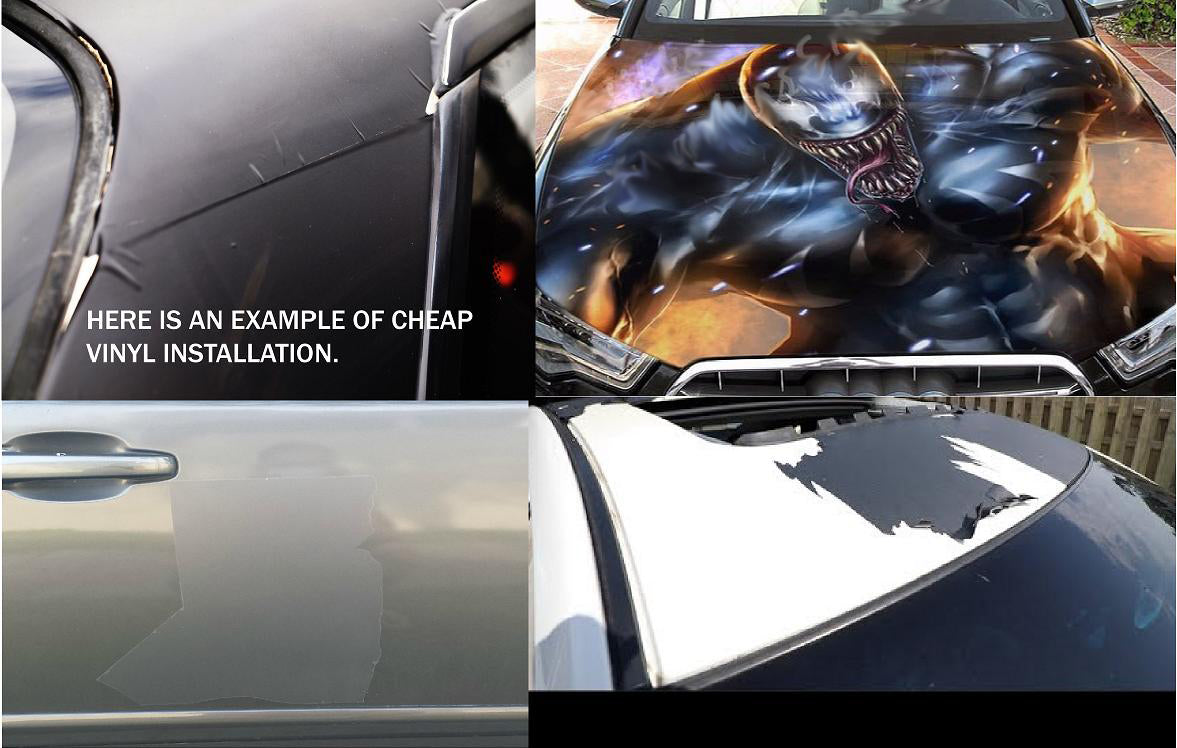 Who doesn't love a great deal? Why pay $159.99  for something you can get for only $59.99 with free shipping? You may have come across very cheap hood & Tailgate wraps and various car decals on the online markets. The keyword here is "cheap". And cheaper is definitely not always better.
There are many sellers all over the internet that buy pre-made decals at a low cost from China and promote them online as a bargain. These decals that may seem like a great deal at first glance, are actually made with low quality vinyl that will start peeling off your vehicle within months, and once that happens there is no way to deal with the issue, because your feedback or complaint won't be addressed after a certain time.
Let's take a look at hood wraps for example. How is it even possible to pay only $59.99 with free shipping?! Hood wraps specifically must be printed using high quality long lasting ink and it is essential that the wrap is made with premium cast vinyl and laminate. The cost for this type of quality vinyl and ink alone- is more than $60. Doesn't this make you wonder what materials are being used to be able to sell and ship at such a low cost? Well, it's the type of material where the adhesive will ruin your cars' paint job after it sits in the sun for a few months.
One good tip to know if the quality is going to be poor, is if the store is selling copyrighted images - If you see superheros or other "name brand" images, know that these are not made in North America and likely made of low end materials. This is why there is actually a lot of harm in supporting overseas manufacturers that are flooding the market with cheap poor quality goods. You may save yourself a couple hundred dollars buying a cheap wrap at first, but this can end up costing you thousands on a paint job.
We've all heard the saying "you get what you pay for". Well, this is especially important to remember when shopping online. While online shopping couldn't be more convenient, one significant disadvantage is the absence of hands on inspection. So for many items, it is critical that you are purchasing from a trusted seller that stands by their products and prides themselves on quality and customer service.
We at XtremedigitalgraphiX.com, only use Orafol brand high quality vinyl and print using a top of the line Roland printer. Everything is print to order and carefully hand inspected before being shipped. We are confident that you will be pleased with the look of your decal and you can rest assured that your money went to a superior quality long-lasting product.
Remember: Cheap wraps are not good quality, and good quality wraps are not cheap.
Please contact us by phone or email with questions, concerns, and of course compliments!