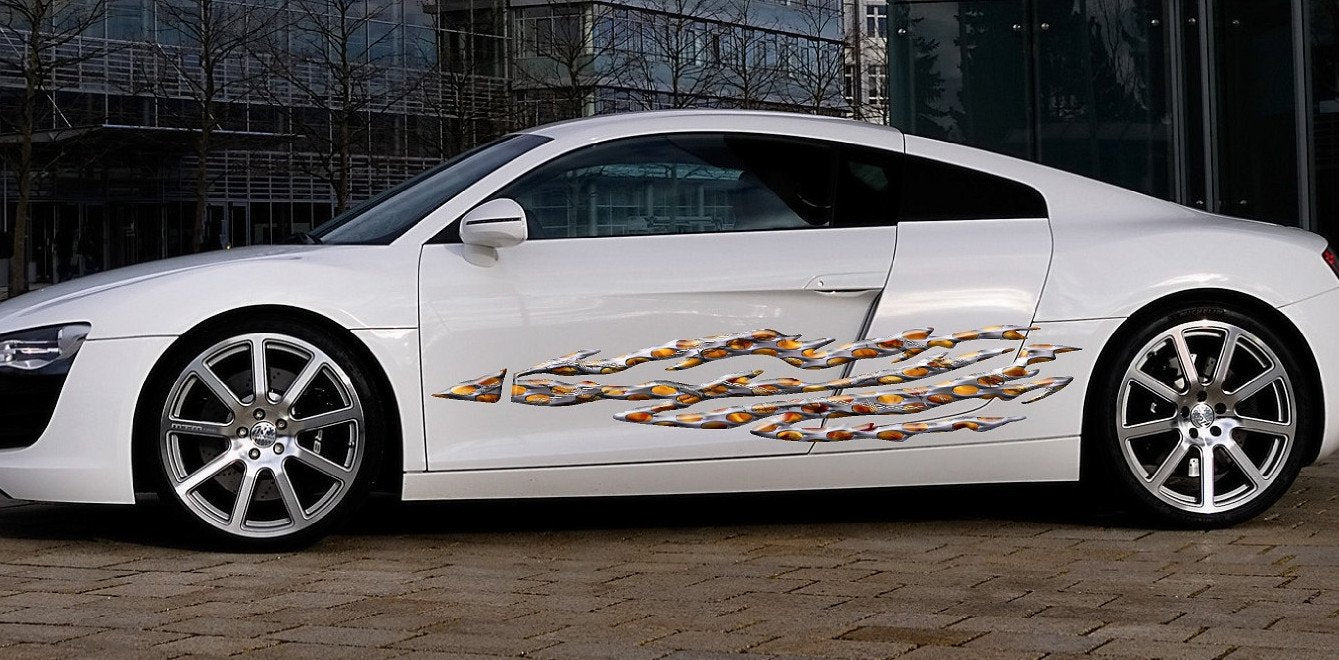 Considering a vehicle graphic but not sure if it's worth getting a laminated decal? Choosing a laminated graphic over non-laminated can provide lots of benefits, like increased durability, conformity, and also UV protection. So before making a decision, read our guide first on everything you need to know about laminated vehicle graphics.
Benefits
Laminate offers numerous benefits for your car. The primary advantages include UV protection, moisture resistance, scratch protection, and an attractive finish. When you add a laminate surface over top of the vinyl, it makes the material thicker by a few millimeters, which makes installation easier and prevents any tears. Choosing a laminate vinyl over non-laminated also ensures that the film is sturdy and doesn't leave bubbles and wrinkles - a much better choice for your vehicle!
Types of Laminates
When it comes to laminate, you have a choice between film and liquid. With film laminates, there are two types that are used in vehicle wraps – cast and calendared laminate. For the long-term use, you want a cast wrap. Cast laminates provide superior flexibility that offers quality conforming to irregular textures. They also provide vibrant paint colour and the highest level of durability. Calendar wraps, on the other hand, are better for temporary advertisements or less demanding conditions. Beyond film laminates, there are also liquid laminates that use state-of-the-art resins and ultraviolet inhibitors to protect the coatings and ink.
Matching
It's important to match the vinyl with the lamination, so if you use a premium vinyl material, it's best to use a similar manufacturer or quality laminate. Trying to save cost in this area will only result in problems like shrinkage, which can make your decal look flawed and unappealing.
Finishes
The most popular car decal finishes are glossy and matte. A glossy finish will create a shiny texture, whereas matte is used when you want a flattering colour with very little sheen. The gloss is often preferred for car decals as it gives the car a shinier and more eye-catching appearance.
Thicknesses
Laminates come in all types of thicknesses - the most common from 1.2 Mil to 10 Mil. Professional grade film is often used on materials that need flexibility and starts at 1.7 Mil. As you move up the scale, the plastic becomes more thick and rigid, where a 5 Mil would be the thickness of a restaurant menu - too thick and not flexible enough for a vehicle laminate. The best vehicle laminates are often in around the 2.0 Mil range for ultimate long-lasting durability and flexibility.
At Xtreme Digital Graphix, we only use the best in vinyl and laminating films for your car decals – long lasting cast and high-quality 2mm Oraguard 290 gloss laminating film that provides excellent durability, flexibility, and long-lasting UV protection.