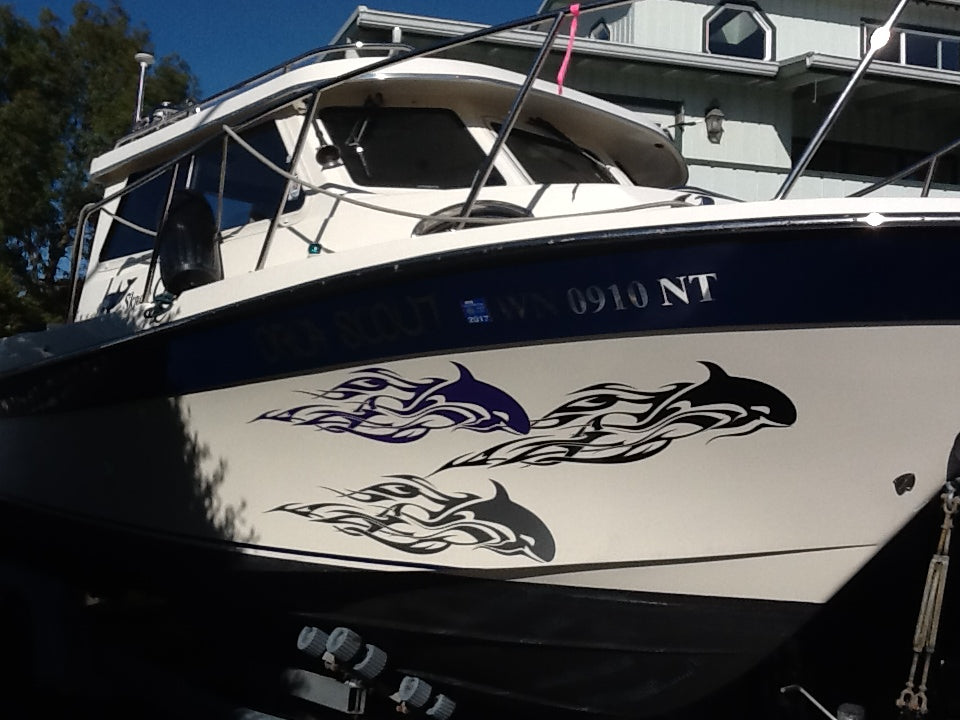 Need high-quality digital graphix to liven up your hull? Boat decals are an excellent way to show off the name of your boat, hail port name, your national pride, and anything else you feel like putting on display! Not sure how it works for your boat? Just follow this quick guide to get the custom look you've been wanting.
Prepare
Before you start, you'll need the proper tools to install the decal on your boat. A plastic squeegee, spray bottle, tape measure, scissors, X-Acto knife, grease pencil, microfiber towel, and bottle of isopropyl alcohol should be enough to get your decal inserted. When the weather conditions are perfect – sunny, calm, and warm – start by cleaning your boat with soap and water to remove any salt and dirt. Follow with an isopropyl solution to remove any grease or oil buildup on the hull.
Position The Decal
Once your boat is ready, you can then start to install the decal. Use a tape measure to find the centre of the area you want to apply the decal. Draw a cross with the grease pen to mark the middle. Find the crease in the centre of the decal and line up the crease to the marked off point. Ensure that the decal is even before using the masking tape to position the decal to the boat. Step back to check that your decal is straight, and if not, re-position until perfect. When ready, add a long piece of masking tape across the top edge of the graphic and remove any other small pieces of tape.
Apply The Decal
Now you're ready to stick the decal to your boat! Visit our Application Instructions Page here for some tips on how to do this, or give us a call for assistance.
For best results, wait between 24 and 48 hours for the sealant to properly set. Then you're ready to go!
When you're ready to impress with a boat decal, contact us at Xtreme Digital Graphix. We have served thousands of happy customers with high-quality decals. We even provide you with your own squeegee!