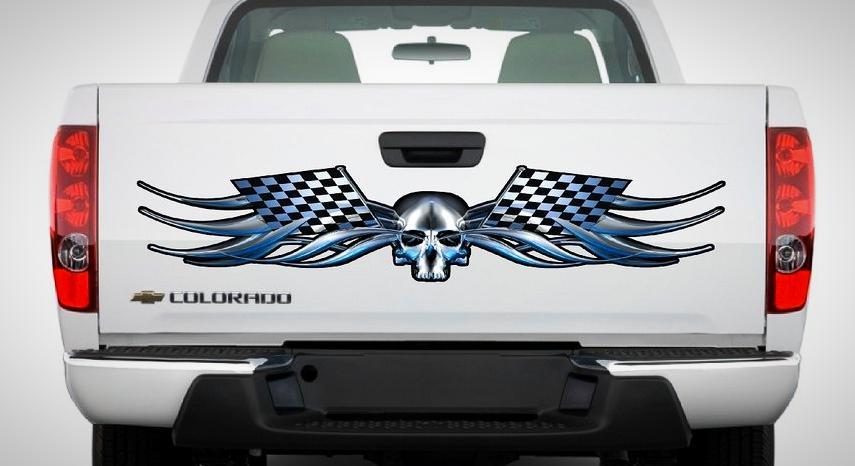 Wondering what vehicles really look the best with our decals? The answer is ANY! Whether you have a car, pickup truck, SUV, crossover, semi, or even a boat — our graphics at Xtreme Digital GraphiX are made to enhance and transform the exterior of your ride with ease.
Large Collection, Larger Diversity
We have an extensive online collection of decals and wraps that are custom made to fit each individual vehicle, which is what makes them so attractive and easy to apply. You can find just about any style of graphic you like, from chrome skulls to grim reapers, to American flag designs, fightin' Irish leprechauns, tribal graphics, and so much more. So whatever tickles your fancy, we're confident you'll find it here!
Easy Installation, Great Looks
All vehicles look best with our decals thanks to the level of quality and attention to detail that goes into each item we manufacture. All of our graphics are created using an advanced, state of the art Eco solvent printer, combined with the best quality vinyl, which is exceptionally strong and durable. Our vinyl is made with a specialized adhesive to ensure each decal has easy flexibility during installation, along with a tight seal when applied to keep it secure and in place along the exterior of your vehicle. And, with a specialized UV protective coating that's incorporated into each decal, your personalized graphic can stay sharp, vivid and ultra-glossy for up to eight years without fading from the sun.
Custom Engineered for Your Ride
Since our decals can be custom fit to each size vehicle or boat, applying them onto the exterior is relatively simple. Every order includes a squeegee that helps you smooth out the decal as you apply it to the surface. And, since it is flexible, it can easily fit along the different contours of your ride without hassle. You can follow along with the instructions provided or use our instructional videos on our websites for help. If you're completely unfamiliar with this process, then we recommend hiring a professional decal installer to ensure it looks as flawless as you expect. This especially goes for decals that are 8 feet or longer.
At Xtreme Digital GraphiX, we love helping our customers transform their ride with graphics that represent a bit of their own style and personality. So when you want to add a little something that shows off a bit of your own personal style, our graphics can do precisely that. Browse through our online library and find the best one to spice up your ride, just in time for the cruising weather.